On my recent holiday to Cornwall I was intrigued by some of the place names. Not far from where I was staying there was the delightfully named Indian Queens. The most likely reason for that place name was a pub of the same name but of course there are other stories with a bit more romance about them.
I passed by Playing Place. Doesn't that sound a fun place to visit? My imagination ran riot imagining endless hopscotch or merry-go-rounds! It wasn't far from the King Harry Ferry. I wonder if His Majesty was ever the ferryman
Who would have expected to find a Camel Trail in Cornwall but there it was! It was originally the site of two railway lines but now it's a trail for walkers and cyclists to follow near to the River Camel. It would be lovely to imagine it as a silk route, with ships of the desert carrying exotic wares deep in the Cornish countryside.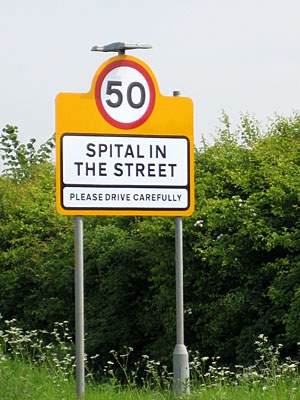 Don't for a moment think that Cornwall has the only odd place names though. My last parish included the less-than-delightfully-named Spital in the Street.
And it wasn't far from New York!